I have a tattoo on my wrist. I get questions about it... a lot. It's pink and black. I could probably give you just one try to guess what it has to do with...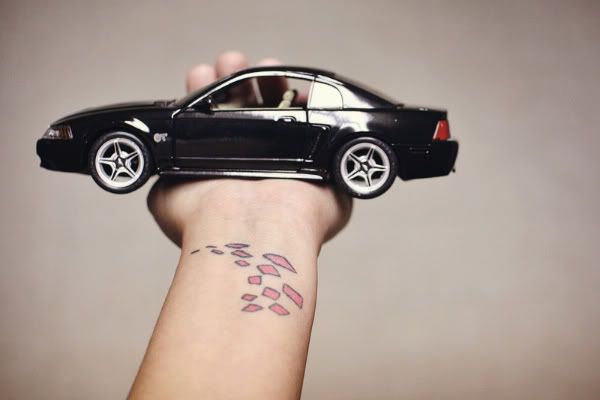 Justin hates it. Ya, i covered it up for the wedding... but he hates it all the time. Like wants me to get it removed hates it. maybe ill want something really big one day and bribe him. lmfao

but here's the story:

If you know me in real life - or if you're smart enough to know that banner up there is me - you'll know i drive a black mustang GT. Shortly after purchasing it, i discovered the
Black Mustang Club
. I've been a member since early 2005 and I'm member number 02612 of over 12,000! I've been there awhile... since joining, I've become a moderator, a member of the graphics team, a preferred member, and a member of the tattoo crew. And might I also mention, the club was founded by a wonderful woman named Lisa - who owns our club mascot Danni, as well as several other fabulous cars. Lisa then opened her own performance shop,
BMC Performance
. Can you see my tattoo anywhere? It's part of the BMC Performance logo, which has in turn become a staple icon of BMC as well. Minus last year, but picking back up this year, we have annual BMC National gatherings where members all over the US (and Canada too!) drive or trailer their black 'stang to the meet location and we all hangout for 4 or so days. I've met some awesome people through the years and the BMC truly can feel like family sometimes. At nationals, we have track days, and a car show, and a cruise, and whatever else we can, depending on the location that year. I've been to two - Dallas & Nashville. At these events, Lisa offers to pay for your
BMC related tattoo
and everyone heads to the tattoo parlor. 18 people, myself included,
got one in 2007.
Lisa and i have the same one, in the same place - except mine's pink. I chose the pink swoosh symbol rather than the BMC letters. I figure, even if i dont have a black mustang my entire life, well ill still be accepted there, and the checkered flag base of the swoosh design will always stand for racing - which will always be party of my life. So there ya have it.